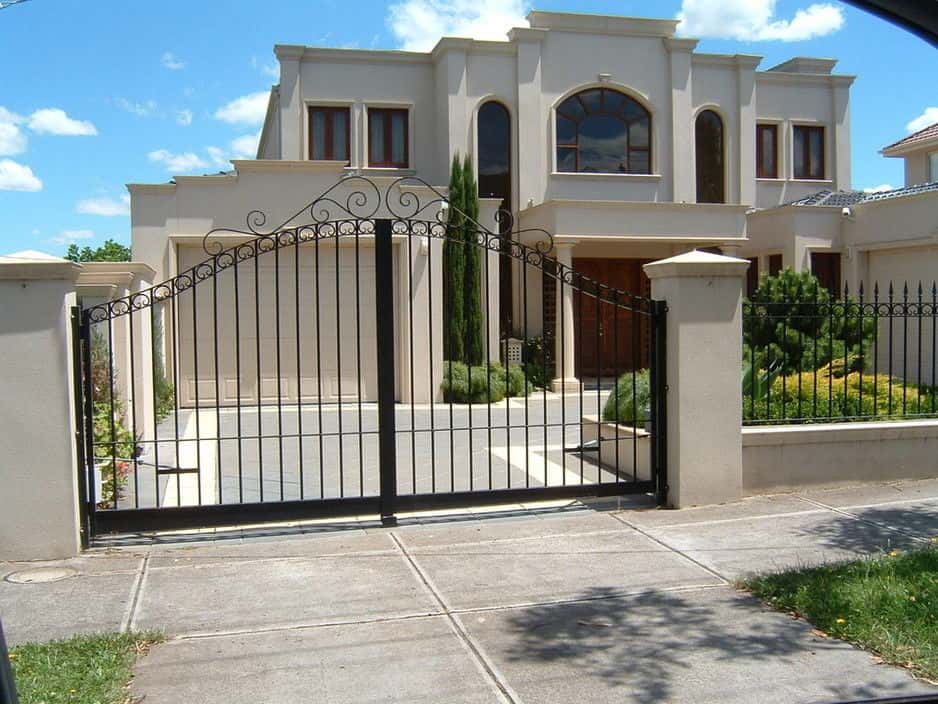 Tips for Fence Maintenance
Steel fencing can last for a very long time and be a great investment. You can look at steel fencing all around the world that was installed years and even decades ago and see it still standing.
Steel fencing is known to be very durable, and it's also visually appealing. The elegant fencing can add sophistication to any home, creating a great first impression.
Steel fencing, like any other kind of fencing, does need to be maintained from time to time. It needs protection from the elements in order to keep it looking its best. Our basic maintenance tips for steel fences should give you what you need to take care of yours.
Safeguard Your Fence
Rust is the biggest danger to steel fences. Even those who live in mild and temperate climates need to be concerned about the effects of rust on their fencing.
Rust can get out of control quickly and spoil your fence's beauty. This is why you need to be aware of it and practice prevention as early as possible.
Prevention is always better than treatment, and what you see as an insignificant spot of rust can quickly develop into something far worse. By maintaining your fence, you can avoid costly repairs and major headaches later.
The best maintenance for your steel fence is to apply protective wax every so often. This safeguards it against the elements. Applying fresh paint can have similar benefits, and it will also give your fence a great new look.
In rainy seasons, you can always cover your fence with a tarp to protect it from rusting.
Clean the Fence Often
Your fence need more than just a protective barrier to stay in top form for a long time. It also needs to be cleaned regularly. You want to remove the dirt, grime and various debris that accumulates on your fence. These can damage the fence and hide problems you may not be aware of.
You can clean your fence with warm water and a gentle cleaning chemical. Most dishwashing liquid formulas will work perfectly, once diluted with some water. Then just scrub the fence with a wire brush to get the dirt off. You can use a toothbrush or other small cleaning tool for finer, more detailed work.
Rinse off the fence when you are finished and then dry it completely. You want to keep the water from settling on the fence and causing damage over time.
Check for Problems
Your fence could use a cursory check every now and then. As you clean and maintain your fence, look for problems like rust, cracks, dents and loose parts of the fence. You also want to ensure that the surface of the fence is smooth and that there are no lumps in the paint.
If you are seeing some signs of degradation, then you need to take care of the problem right away, before it becomes worse.
Dealing with Rust
If you do have rust on your steel fence, then you need to know how to handle it. How much damage your fence has will determine how to approach the problem. You can take care of small rust spots pretty quickly and easily, if they are caught early on.
Rub at the smaller spots with a wire brush or use sandpaper to get rid of them. Try not to be abrasive or overly rough with your efforts, as you don't want to damage the surrounding steel surface or the paint.
The rust that is a bit more stubborn can be dealt with by using a rust converter. This is a primer that's water based and that turns rust to a protective substance. You can apply it during regular maintenance to prevent the spread of rust.
For serious rust damage to the fence, you may need to contact a professional to deal with it. Steel fencing experts may be able to help you salvage your fence if it has suffered severe damage.
What You Should Know:
1. Steel is ideal for any gate or fence.
2. Your steel fence can last for decades, if you take care of it.
3. Use wax and paint to protect your steel fence from the elements.
4. If you clean on a regular basis, you can prevent some damage from occurring and locate damage that is already there, before it becomes worse.
5. All it takes to clean the fence is a wire brush, some warm water and some detergent. Then just wipe all that away and dry the fence thoroughly, when you are finished.
6. You a get rid of smaller rust patches by using a fine wire brush.
When you find rust, you can convert it into a protective barrier using a rust converter.
8. If you maintain your fence well, you can avoid serious and widespread damage. If you do find a lot of damage to your fence, then calling a professional may be the best way to deal with it.
Your steel fence can really beautify and fortify your home. They last for ages when well maintained, and nothing really matches them for durability. You can add some serious value to your home and make it more attractive on the resale market.
Our simple fence maintenance tips will allow you to take care of your fence and protect your investment for a long time to come. It also saves you money on expensive repairs later.
To find out more about steel fences, please contact our team at Dandenong Gates. We would be happy to help you find a fence that meets your needs.